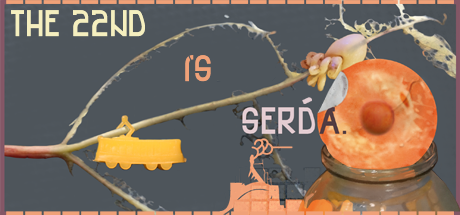 The 22nd is Serda. f0a178
Initially, this little game is a four-month risky experiment that is based on a strict idea of pure zeal and specifically made forms, because it was conceived to fill the player with answers so they can find the questions that need asking.
Сompletion of the first build release should be ready for publishing as an "Early Access" game and will be further developed.
Until, of course, it would be flooded with envisaged and critical errors then it is going to be mostly all over.
What is interesting, is that this story is going to be connected to "KROTRUVINK" by one of the game characters from it.
Non-existing time, turning others mad ever so slowly and it did seem an appropriate solution for that illness to create and present a playable message.
But to avoid accumulated materials abuse it was agreed upon to create new game mechanics, new fillings and new meanings except for Ropes of high value.
As much as it is possible in such a short period of time.

9490.
We are in a concentrated piece of land and it is diversified with guests and mirror reflections.
Technology and abstraction changed the familiar crannies and you barely recognize yourself.
So just take a walk nearby, hold your dreams in vibrating, unreliable hands.
The time has come for when different books are published under the same names.
The time has come and jumbled itself up because life deformed quality in favour of quantity. Quantity of something uncontrollable, too naive, childish.
It's not that easy to ignore simplistic solutions, so it was only a matter of time before somebody found a mundane treat for an ominous patronage.
This irreparable deal provided a unique opportunity to meet new faces.
Out there waiting is an unkempt fisherman and a secretive woman.
Would they ask for something or would they do you a favour?
About other guests… Who knows whether they would be even talkative or just curious?
GAMEPLAY FEATURES:
• First person exploration where you are free to discover the world around you.
Use these discoveries to your advantage and keep your eyes open for more.
You can destroy some of the items you collect, if you find out how. Keep in mind that the next thing you destroy and lose forever might be that most precious treasure you were looking for...
• Never trust others, even if they are willing to give you a clue for free. Their goals, however, may be beneficial for you in the end.
• Some puzzles of this world are literally above your head. Insects race in the air or slumber on the walls, offering you many secrets.
• You also need to hurry up. Somebody has destroyed the environment and then tried to escape from his brilliant result, trying to reach the Lovely Boat first.
• All assets were prepared with a special "penmanship" from scratch. You can solve details in all their intimacy and imperfection.
• Dialogues can only promise a hint of the result you are looking for with the real goal being hidden in very specific spots of this place.
Interaction with objects is an effective action but only in conjunction with mindfulness.